NOTICE: Discontinuation of Hurricane Wave (multi_2) Model Effective on or about July 11, 2017, beginning with the 1200 Coordinated Universal Time (UTC) run, the National Centers for Environmental Prediction (NCEP) [has discontinued] the Hurricane Wave (Multi_2) Model and all output. This includes NOAAPORT and NCEP Web services.

NCEP solicited comments on the proposed discontinuation of the Hurricane Wave modeling system under PNS 17-06. The proposal was to replace these products with higher-quality data generated by the next coupled Hurricane Weather Research and Forecasting (HWRF) system. NCEP received no negative feedback so we will proceed with this change.

Service Change Notice 17-71
The operational ocean wave predictions of NOAA/NWS/NCEP use the wave model WAVEWATCH III® using operational NCEP products as input.
Detailed description of the WAVEWATCH III® model
and source code distribution.
The model is run four times a day: 00Z, 06Z, 12Z, and 18Z. Each run starts with 9-, 6- and 3-hour hindcasts and produces forecasts of every 3 hours from the initial time out to 180 hours (84 hours for the Great Lakes).
The wave model suite consists of global and regional nested grids. As background information, a list of selected references and a chronological list of model changes are available. Finally, validation data are available for the multigrid model.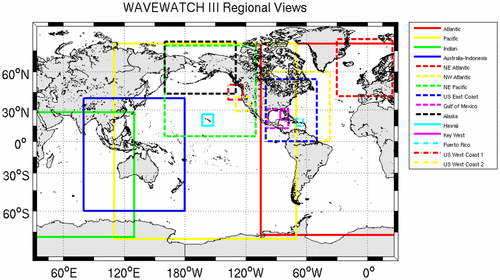 Click on image to enlarge
Forecast Zones
Click to open the Product Viewer for the selected zone (latest model run)
NOAA WAVEWATCH III® Hindcast and Reanalysis Archives
MMAB currently maintains two classes of WAVEWATCH III® hindcasts.
A thirty-year hindcast generated from the NCEP Climate Forecast System Reanalysis and Reforecast (CFSRR) homogeneous dataset of hourly high-resolution winds. The time period covers from 1979 through 2009. This is a true hindcast generated with a single version of the model and a statistically consistent forcing wind field, and is suitable for use in climate studies.
An ongoing data set produced by rerunning the model from the operational wind fields to produce best-estimate nowcast datasets. This is a statistically inhomogeneous hindcast data set, because the underlying models are periodically updated. Therefore this data set should not be used for climate studies.
Detailed descriptions of the hindcasts and reanalyses, with links to the datasets, validation statistics from buoy match-ups, and visualizations of the model data fields, can be found in the WAVEWATCH III® Hindcast and Reanalysis Archives
WAVEWATCH III® Tutorials
Two COMET modules are available regarding WAVEWATCH III® and analysis of ocean swell:
Disclaimer
While WAVEWATCH III® is an operational model, we cannot guarantee the timeliness or accuracy of the model data and figures offered on this site. Please see our disclaimer for more information.
Questions or Comments?
We welcome any questions or comments you may have on the WAVEWATCH III® system.
Sign up for the MMAB mailing list for updates and information on these products.
For questions or problems with the website please contact us.