NOTICE: Due to ongoing network issues with our supercomputers we may have to temporarily suspend our web site updates periodically while our sysadmins work on the problem. We apologize for the inconvenience.
NOTICE OF PUBLIC RELEASE: A new version of WAVEWATCH III version 5.16 has been released. Details about the model and how to obtain the code can be found here.
NOTICE: We have resumed updates to the WAVEWATCH III® Hindcast reanalysis, with data up through October 2016.
Important Note: The data from Aug 2015 and onwards is being generated with WW3 version 5.08 using the ST4 physics package. The hindcast datasets are available from the MMAB FTP server at ftp://polar.ncep.noaa.gov/pub/history/waves
The operational ocean wave predictions of NOAA/NWS/NCEP use the wave model WAVEWATCH III® using operational NCEP products as input.
Detailed description of the WAVEWATCH III® model
and source code distribution.
The model is run four times a day: 00Z, 06Z, 12Z, and 18Z. Each run starts with 9-, 6- and 3-hour hindcasts and produces forecasts of every 3 hours from the initial time out to 180 hours (84 hours for the Great Lakes).
The wave model suite consists of global and regional nested grids. As background information, a list of selected references and a chronological list of model changes are available. Finally, validation data are available for the multi-scale model.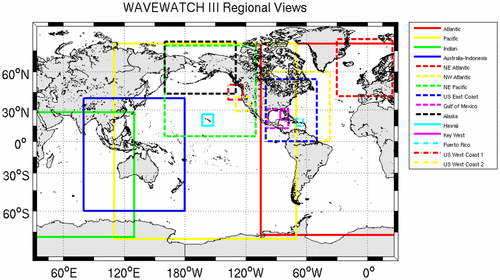 Click on image to enlarge
Forecast Zones
Click to open the Product Viewer for the selected zone (latest model run)
NOAA WAVEWATCH III® CFSRR Reanalysis Hindcasts
To generate a wave climatology, a simulation of the 30-year period of 1979-2009 has been run with the NOAA WAVEWATCH III® using the Tolman-Chalikov physics package with 16 regular lat-lon grids and the new NCEP Climate Forecast System Reanalysis and Reforecast (CFSRR) homogeneous data set of hourly 1/2° spatial resolution winds.
Click here for documentation and data access.
WAVEWATCH III® Tutorials
Two COMET modules are available regarding WAVEWATCH III® and analysis of ocean swell:
Disclaimer
While WAVEWATCH III® is an operational model, we cannot guarantee the timeliness or accuracy of the model data and figures offered on this site. Please see our disclaimer for more information.
Questions or Comments?
We welcome any questions or comments you may have on the WAVEWATCH III® system.
Sign up for the MMAB mailing list for updates and information on these products.
For questions or problems with the website please contact us.